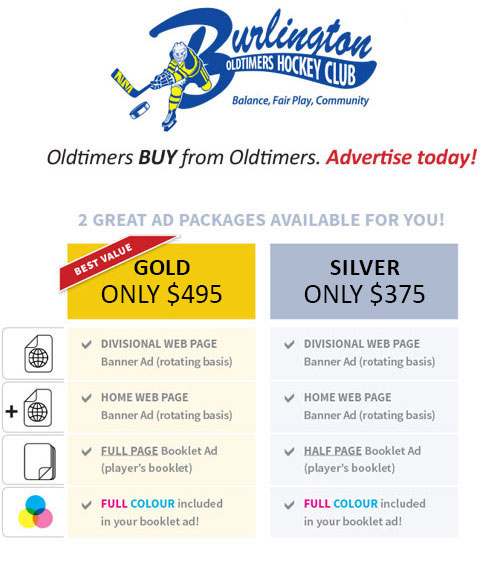 On behalf of the BOHC we would like to thank you for your interest in placement of an ad within our BOHC Members Booklet & website. http://www.bohc.ca
Our booklet is a season-long reference keepsake for over 1,150 BOHC members and our website is regularly visited for further reference and any current updates for additional BOHC Members & club information.  We are confident your business will benefit as a result.
The Burlington Oldtimers Hockey Club is a non-profit volunteer-based organization that contributes annually to various local charities. Your advertising dollar creates more than just a greater awareness and benefit for your business or services. It also helps us to help others in need. Without the support of people like you, we would not be able to reach our goals. 
Advertising requests (with completed graphics) need to be received by August 1 for the current year if they are to be included within the Player's Booklet due to printing deadlines. However, web-only ads can be accepted throughout the year.
Ad creation or graphics services are available and subject to a minimal fee - payable direct in advance of booklet publication. Please contact us at advertise@bohc.ca now to get your advertisement into our player book and website.

View the 2023-24 Player Book here >