Canadian 80+ Hockey Hall of Fame 2022 Inductions
Burlington Art Gallery - Saturday, Oct 22, 2022
https://www.youtube.com/watch?v=ta83bUFk-xA&t=5s
For the 10th year since its foundation, the Canadian 80+ HOCKEY HALL of FAME will induct PLAYERS and REFS, still active at 80 years of age and over. Previous induction ceremonies have been held in Ottawa/Gatineau and Saskatoon. This year the Burlington Oldtimers Hockey Club will be hosting the induction ceremony on Saturday, October 22 at the Burlington Art Gallery. We are proud to be welcoming inductees from southern Ontario. The day will include a special Inductee hockey game (for the new inductees) at Appleby Rink 1 starting at 3:30 pm Saturday as well as a 2-game international series for Canada vs USA 80+ with the championship match being played Saturday starting at 1:00 pm.
31 Ontario-based Inductees will be inducted at the Burlington Art Gallery Saturday night. Congratulations to six members of the BOHC (Peter Austin, Robert Grenier, Bill Leithead, Dale McKeown, Bob Pring and Dave Trumbell) and welcome to team U.S.A. joining us for the weekend. Your lifelong commitment and contribution to the sport of hockey is simply amazing!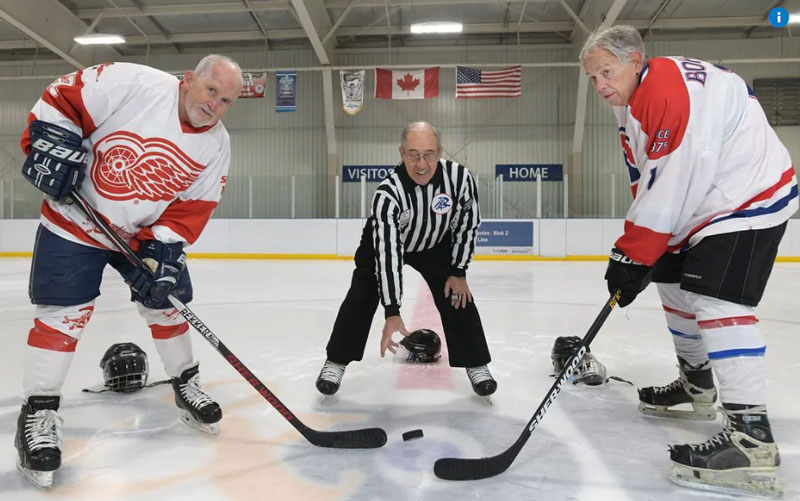 https://www.thespec.com/sports/hamilton-region/opinion/2022/10/20/six-burlington-men-are-going-into-80-plus-hockey-hall-of-fame-this-weekend.html
Games - Saturday October 22
1:00 – Canada vs U.S.A (Appleby rink 1)
3:15 – New Inductees game (Appleby rink 1)
6:00 – Dinner and Ceremony (Art Gallery of Burlington)
---
Roger Brugess and Ed Murphy to be Inducted to 80+ Hall of Fame
19/10/2018
Friday
HOCKEY for 80 year olds will be honoured on OCTOBER 27, 2018.
For the EIGHTH consecutive year since its foundation, the 80+ HOCKEY HALL of FAME will hold induction Ceremonies to honour 27 candidates in the PLAYER category, still actively playing hockey at 80 years of age and over. THE 80+ HOCKEY HALL of FAME is a non-profit organization which nationally recognizes active recreational hockey players 80 years of age and over.
Two members of the Burlington Oldtimers Hockey Club (BOHC) are to be inducted into the 80+ Hockey Hall of Fame.  Fellow BOHC members Peter Austin and Bruce Marsh will be accompanying Roger Brugess and Ed Murphy to Ottawa on Oct 27th, 2018 as they are inducted into the Hall of Fame.
As part of the full day of celebrations, they will be playing in a hockey game with other 80 year-old inductees. Following the game, there will be a banquet and induction ceremony. More information is on the website. www.80plushockeyhalloffame.com
We are proud to now have 5 members of the Burlington Oldtimers Hockey Club be recognized by this organization. All five of our BOHC Hall of Famers are role models and ambassadors for adult recreational hockey in Canada and proud BOHC alumni.
2018 BOHC Inductees
ROGER BRUGESS, 80 yrs old (DEFENSEMAN)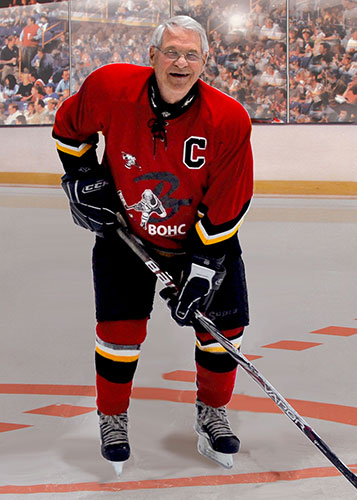 ED MURPHY, 80 yrs old (FORWARD)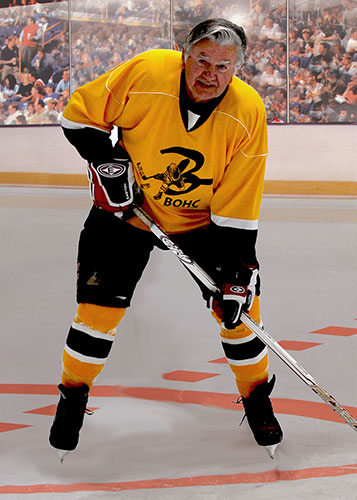 Hometown Hockey in Burlington
On Wednesday, October 10, 8pm, Rogers Hometown Hockey hosted by Ron MacLean and Tara Slone on Sportsnet is going to shoot a BOHC segment at Appleby arena Pad #1 (8:00 game for the Black division). Black Hawks #34 and Bruins #35.  At 9:00 they will then head over to Hector's to shoot some interviews with Tara and some of the guys. 

As you know, our regular season hockey games are not very well-attended - never sell-outs! We are hoping that we don't hear the crickets in the stands for this game... Wouldn't it be great if the TV crews saw a few fans in the audience cheering on the Hawks or Bruins? This is our only chance to show Canada what a great league we have in BOHC - PLEASE save this date and JOIN US to watch the game, and cheer on Dave Whyte or Bill Misener's teams. Bring the family! Maybe the entire Black division could come early to their games that night and support their fellow Hawks/Bruins...

Right after the game - or as soon as the TV crew think they have captured enough highlights, they will pack it up and head over to Hectors to interview our most colourful players. If you are free this night please come on over to Hectors early, park in the back so we leave a few parking spots... You may end up on TV so get your hair done or whatever - look your best. Wear BOHC stuff if you have it.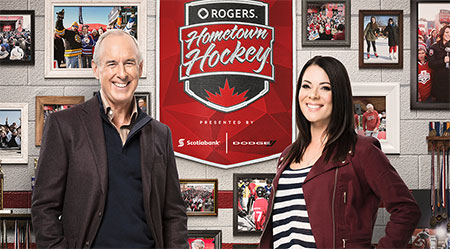 Rogers Hometown Hockey hosted by Ron MacLean and Tara Slone on Sportsnet will be making its stop here Oct. 27-28. The free two-day celebration of hockey will feature two days of live entertainment, NHL alumni, local celebrities and hockey-themed activities. The weekend activities wrap up with an outdoor viewing party of the NHL game between the Ottawa Senators and the Vegas Golden Knights. More info
---
Charity Equipment Drive
Will Pugh, in our GREY division is one of the guys that run the war room in our Invitational tournament every year and he is also a member of the Rotary Club. He and his club are running a hockey equipment drive during the Hometown Hockey week.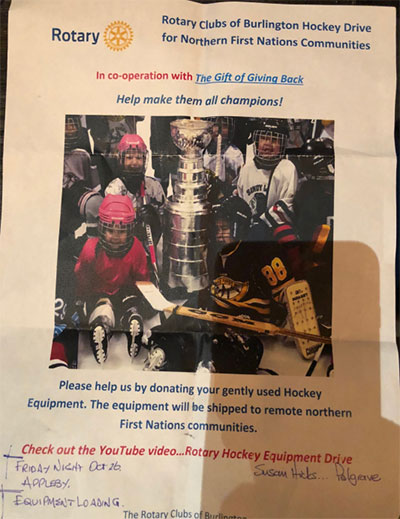 Just looking for some of the extra equipment ....that most of us have hanging around our basement ....but we just can't bear to be without it ......cause we were great at one time ........unless of course it was for a worthy cause.

Thanks boys!